From sentiment scores and the number of delays to luggage, security and even WiFi ratings – here are which European airports are causing passengers the most stress.
With many European airports coming under fire over recent months for increased delays due to staffing shortages, The Digital PR hub at Legacy Communications has analysed Europe's busiest airports to find out which are most likely to stress you out this Easter.
Legacy combed through over 10,000 passenger reviews, 2,500 tweets, and hours of flight data to gauge which airports are likely to cause the biggest bump in blood pressure amid recent scenes at airports throughout Europe with London's Heathrow Airport landing in the top spot.
Also in the top three was Dublin Airport which has come under fire recently for delays due to staff shortages and Manchester airport which just saw its managing director step down over similar issues.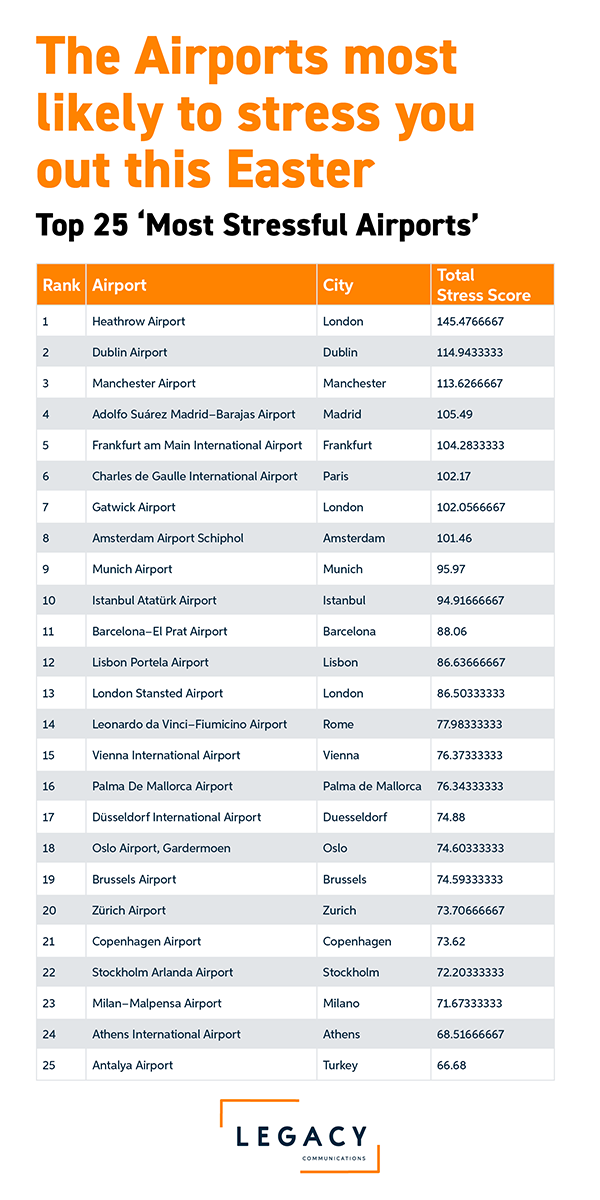 To get an overall stress score Legacy analysed the annual number of passengers, rate of delays, social media sentiment and passenger reviews to figure out which of Europe's airports are the most stress-inducing.
Another of London's airports, Gatwick, also ranked in seventh place of the overall most stressful airport list, with London's Stansted also breaking the top fifteen at thirteenth place.
Meanwhile, the only one of London's airports to crack the top fifteen in passenger satisfaction reviews for WiFi, check-in, security and more was Heathrow with a score of 78%.
Heathrow also ranked number one in negative sentiment social media analysis with a score of -263. Meanwhile, Gatwick landed itself in third place for overall flight delays with a score of 96.17.
Overall Most Stressful Airports Top 25:
| | | | | | | | |
| --- | --- | --- | --- | --- | --- | --- | --- |
| Rank | Airport | City | Country | Tensi Score | Delay Rate | Annual Passengers | Total Stress Score |
| 1 | Heathrow Airport | London | United Kingdom | -263 | 95.43 | 78,014,598 | 145.4766667 |
| 2 | Dublin Airport | Dublin | Ireland | -221 | 94.83 | 29,582,321 | 114.9433333 |
| 3 | Manchester Airport | Manchester | United Kingdom | -217 | 96.88 | 27,901,708 | 113.6266667 |
| 4 | Adolfo Suárez Madrid–Barajas Airport | Madrid | Spain | -170 | 93.47 | 53,386,075 | 105.49 |
| 5 | Frankfurt am Main International Airport | Frankfurt | Germany | -156 | 92.85 | 64,500,386 | 104.2833333 |
| 6 | Charles de Gaulle International Airport | Paris | France | -141 | 96.51 | 69,471,442 | 102.17 |
| 7 | Gatwick Airport | London | United Kingdom | -165 | 96.17 | 45,561,694 | 102.0566667 |
| 8 | Amsterdam Airport Schiphol | Amsterdam | Netherlands | -145 | 91.38 | 68,515,425 | 101.46 |
| 9 | Munich Airport | Munich | Germany | -155 | 88.91 | 44,577,241 | 95.97 |
| 10 | Istanbul Atatürk Airport | Istanbul | Turkey | -128 | 93.75 | 63,859,785 | 94.91666667 |
| 11 | Barcelona–El Prat Airport | Barcelona | Spain | -125 | 92.18 | 47,262,826 | 88.06 |
| 12 | Lisbon Portela Airport | Lisbon | Portugal | -138 | 95.91 | 26,669,755 | 86.63666667 |
| 13 | London Stansted Airport | London | United Kingdom | -142 | 92.51 | 25,904,573 | 86.50333333 |
| 14 | Leonardo da Vinci–Fiumicino Airport | Rome | Italy | -106 | 87.95 | 40,968,756 | 77.98333333 |
| 15 | Vienna International Airport | Vienna | Austria | -110 | 95.12 | 24,392,805 | 76.37333333 |
| 16 | Palma De Mallorca Airport | Palma de Mallorca | Spain | -125 | 77.03 | 27,970,655 | 76.34333333 |
| 17 | Düsseldorf International Airport | Duesseldorf | Germany | -115 | 85.64 | 24,640,564 | 74.88 |
| 18 | Oslo Airport, Gardermoen | Oslo | Norway | -111 | 85.81 | 27,482,315 | 74.60333333 |
| 19 | Brussels Airport | Brussels | Belgium | -113 | 86.78 | 24,783,911 | 74.59333333 |
| 20 | Zürich Airport | Zurich | Switzerland | -105 | 87.12 | 29,396,094 | 73.70666667 |
| 21 | Copenhagen Airport | Copenhagen | Denmark | -102 | 89.86 | 29,177,833 | 73.62 |
| 22 | Stockholm Arlanda Airport | Stockholm | Sweden | -105 | 85.61 | 26,642,034 | 72.20333333 |
| 23 | Milan–Malpensa Airport | Milano | Italy | -111 | 82.02 | 22,169,167 | 71.67333333 |
| 24 | Athens International Airport | Athens | Greece | -110 | 74.55 | 21,737,787 | 68.51666667 |
| 25 | Antalya Airport | Antalya | Turkey | -121 | 54.04 | 25,931,659 | 66.68 |
Sentiment Analysis Stress Score Top Ten:
| | | |
| --- | --- | --- |
| Rank | Airport | Sentiment Score |
| 1 | Heathrow Airport | -263 |
| 2 | Dublin Airport | -221 |
| 3 | Manchester Airport | -217 |
| 4 | Adolfo Suárez Madrid–Barajas Airport | -170 |
| 5 | Gatwick Airport | -165 |
| 6 | Frankfurt am Main International Airport | -156 |
| 7 | Munich Airport | -155 |
| 8 | Amsterdam Airport Schiphol | -145 |
| 9 | London Stansted Airport | -142 |
| 10 | Charles de Gaulle International Airport | -141 |
  Most Delayed Airports Top Ten:
| | | | | |
| --- | --- | --- | --- | --- |
| Rank | Airport | State | Country | Delay rate % |
| 1 | Manchester Airport | Manchester | United Kingdom | 96.88 |
| 2 | Charles de Gaulle International Airport | Paris | France | 96.51 |
| 3 | Gatwick Airport | London | United Kingdom | 96.17 |
| 4 | Lisbon Portela Airport | Lisbon | Portugal | 95.91 |
| 5 | Heathrow Airport | London | United Kingdom | 95.43 |
| 6 | Vienna International Airport | Vienna | Austria | 95.12 |
| 7 | Dublin Airport | Dublin | Ireland | 94.83 |
| 8 | Istanbul Atatürk Airport | Istanbul | Turkey | 93.75 |
| 9 | Adolfo Suárez Madrid–Barajas Airport | Madrid | Spain | 93.47 |
| 10 | Frankfurt am Main International Airport | Frankfurt | Germany | 92.85 |
Passenger Satisfaction Reviews Top 25:
| | | | | | | | | | | | |
| --- | --- | --- | --- | --- | --- | --- | --- | --- | --- | --- | --- |
| Rank | Airports | Getting to Airport | Check-in | Terminal facilities | Security Check | WiFi | Food and retail services | Lounge | Immigration/customs | Baggage claim | Total score |
| 1 | Istanbul Atatürk Airport | 84% | 88% | 89% | 87% | 71% | 85% | 87% | 86% | 89% | 85% |
| 2 | Zürich Airport | 89% | 87% | 86% | 75% | 86% | 80% | 76% | 83% | 80% | 82% |
| 3 | Amsterdam Airport Schiphol | 88% | 86% | 84% | 86% | 81% | 82% | 80% | 76% | 75% | 82% |
| 4 | Vienna International Airport | 88% | 81% | 86% | 85% | 85% | 76% | 72% | 81% | 79% | 81% |
| 5 | Munich Airport | 79% | 84% | 83% | 86% | 78% | 80% | 79% | 74% | 76% | 80% |
| 6 | Adolfo Suárez Madrid–Barajas Airport | 85% | 83% | 82% | 81% | 71% | 76% | 78% | 74% | 75% | 78% |
| 7 | Heathrow Airport | 82% | 83% | 82% | 80% | 74% | 78% | 74% | 75% | 75% | 78% |
| 8 | Athens International Airport | 80% | 82% | 78% | 74% | 83% | 75% | 70% | 75% | 76% | 77% |
| 9 | Frankfurt am Main International Airport | 83% | 83% | 80% | 76% | 75% | 76% | 72% | 75% | 71% | 77% |
| 10 | Copenhagen Airport | 85% | 81% | 83% | 75% | 80% | 76% | 67% | 74% | 67% | 76% |
| 11 | Palma De Mallorca Airport | 82% | 81% | 79% | 70% | 83% | 76% | 66% | 75% | 76% | 76% |
| 12 | Barcelona–El Prat Airport | 84% | 81% | 80% | 67% | 80% | 75% | 68% | 74% | 73% | 76% |
| 13 | Dublin Airport | 81% | 81% | 77% | 78% | 77% | 74% | 64% | 76% | 72% | 76% |
| 14 | Oslo Airport, Gardermoen | 85% | 83% | 80% | 78% | 73% | 69% | 73% | 65% | 73% | 75% |
| 15 | Lisbon Portela Airport | 85% | 79% | 78% | 75% | 68% | 73% | 75% | 67% | 72% | 75% |
| 16 | Gatwick Airport | 80% | 81% | 77% | 81% | 65% | 74% | 64% | 75% | 72% | 74% |
| 17 | Brussels Airport | 80% | 82% | 81% | 78% | 69% | 71% | 72% | 65% | 67% | 74% |
| 18 | Leonardo da Vinci–Fiumicino Airport | 77% | 77% | 78% | 80% | 71% | 74% | 66% | 70% | 67% | 73% |
| 19 | Düsseldorf International Airport | 83% | 82% | 76% | 78% | 64% | 73% | 71% | 68% | 64% | 73% |
| 20 | Stockholm Arlanda Airport | 79% | 78% | 76% | 72% | 69% | 68% | 71% | 61% | 67% | 71% |
| 21 | Charles de Gaulle International Airport | 74% | 77% | 73% | 75% | 70% | 68% | 65% | 70% | 68% | 71% |
| 22 | Antalya Airport | 81% | 76% | 77% | 74% | 48% | 73% | 68% | 74% | 63% | 70% |
| 23 | Milan–Malpensa Airport | 75% | 70% | 76% | 62% | 75% | 68% | 59% | 68% | 66% | 69% |
| 24 | Manchester Airport | 78% | 76% | 67% | 69% | 62% | 67% | 67% | 66% | 62% | 68% |
| 25 | London Stansted Airport | 73% | 73% | 70% | 70% | 58% | 69% | 69% | 66% | 66% | 68% |