Newsjacking is a smart Digital PR Tactic used to align a brand with a current event or news story in an attempt to generate additional coverage and boost a brand's exposure.
When a strong, creative, and timely idea is paired with strong data and knowledge of the news agenda, you can easily use the news cycle to create additional coverage for a client. This is exactly what Legacy set out to do with its most recent Digital PR offering analysing the most stressful airports in Europe at a time when airports were trending in the news for long wait times.
The most stressful airports release secured 104 pieces of strong coverage with features in publications such as Lovin Dublin, District Magazine, The Examiner, The Irish Independent, The Express UK, The Standard, and a whole host of regional publications across the UK, Ireland –  and other parts of the world to boot.
The Results
The release generated Blanket coverage with a total reach of over 145,980,741, a total of 104 pieces of coverage not including social mentions. Of the 104 pieces of coverage, 40 included a link, a further 4 included a Legacy branded image and almost all articles mentioned the Legacy brand numerous times.
The release increased search referral traffic by over 400% over two days and Legacy is now ranking number one for online PR companies in the UK thanks to the release generating 68 mentions of Legacy next to the term Digital PR with 53 outlets quoting Legacy within their article.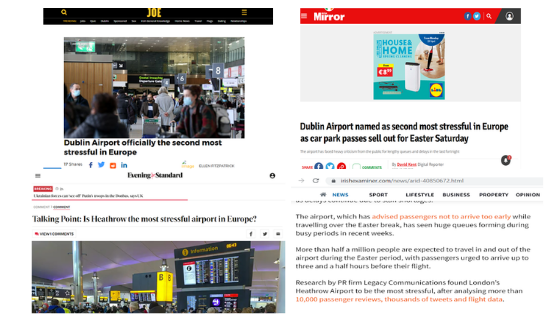 We also secured 4 on-air brand mentions related to the data on some of Ireland's biggest radio stations including Newstalk, Red FM, Dermot and Dav,e and Radio Nova. The unexpected coverage drove fame and awareness to huge audiences.
The release also resulted in an interview request from RTE's Drive Time who reached out to us organically.
The piece was also mentioned on social media by almost all of the publications that covered it, with most publications that shared the story on social mentioned Legacy by name within the tweets. It grabbed hold of the conversation on Twitter and Facebook – a major viral moment that had journalists reaching out organically to ask for the release from social and news coverage.
🇪🇺 Meanwhile, a new study has claimed the airport is the second most stressful in Europe.

The Digital PR Hub at Legacy Communications decided to analyse the hotspots around Europe to find out which are most likely to stress you out this Easter. pic.twitter.com/YPHdVw1rVB

— Irish Daily Mirror (@IrishMirror) April 13, 2022
The Creative
While it may seem like ideation is the easiest part of your digital PR campaign, this isn't always the case. Make sure you do some critical thinking in the early stages to ensure you will be able to actually secure the data you might need later down the line. Brainstorming sessions with your team are key to sense check your ideas before wasting time on data.
For Legacy's Airport release, we used data from a variety of sources including flight tracking apps, airport ranking sites, and sentiment analysis tools. Tapping into a topic that was already trending right before the Easter travel season began.
The Data
Once your data availability has been approved it's key to spend some time thinking about the best sources to get your data.
To gather the data on sentiment analysis for each of the airport's Legacy used TensiStrength to analyse the stress score of 100 of the top tweets (2,500 in total) per airport hashtag.
We also calculated the total number of delayed or cancelled flights over the same sample day period per airport to calculate an average score. Meanwhile, data on overall customer satisfaction including for baggage, security checks, WiFi, etc came from an analysis of over 10,000 Flight Radar reviews from travellers.
The Timing
The airport release topic was chosen after carefully monitoring news trends during the lead-up to Easter. We also conducted searches on individual journalists and publications to figure out the likelihood of our idea getting coverage.
We also made sure to take a cautious approach to the release date. Especially when releasing around big events, it's key to make sure you get your story in at the exact right time. Pitching too early or too late can break even the most solid of scoops. With this release, we chose to go out right as news surrounding airport delays peaked ahead of Easter weekend.
The Crafting
The key to writing a good press release is keeping a journalist in mind while crafting your release. Make sure to always think about ways to improve your release, if you can add a graphic, a stronger headline, or an expert comment – then do.
The success of Legacy's airport release was massively helped by being able to take a tiny step back and let the data lead the piece. Remember – if your angle is strong enough, you won't have to oversell it.
The Outreach
Take a look at journalists who have covered similar topics in the past and more recently and create a targeted media list for each release – this method is a lot more effective than using a general list and while it may take you more time, the results are worth it.
Make sure your ideas have a strong news hook but don't be afraid to think of ways to add a secondary local angle – regionals are an excellent way to boost coverage. Changing the headline per publication and sending it out multiple times with different angles makes a massive difference.
Journalists are usually busy, so don't take it to heart if you don't see coverage right away. Retarget, send a follow-up and create new media lists if at all possible – you'll be surprised at how effective this method can be. With Legacy's airport release, a significant amount of the coverage didn't come until day three, with results still rolling in weeks later, so try to keep calm.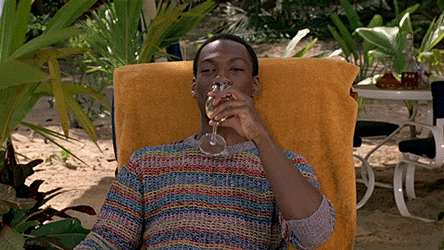 The SEO
In one campaign Legacy went from ranking at number 7 to number 6 for the term digital pr service in the UK, as well as moving from ranking in nineteenth place to fifth place for the term digital pr company, and from 10 to number one for the term online pr companies.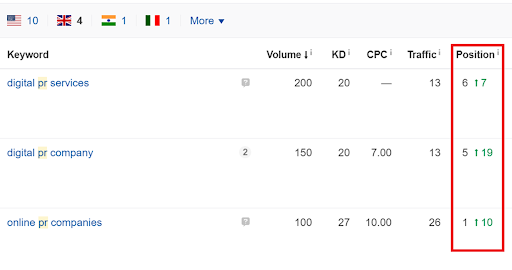 Meanwhile in the US, Legacy went from ranking in twelfth place to fifth for the term digital PR agency, number 7 to number 5 for digital PR services and 10 to 3 for digital PR service, also moving from 0 to 6 for digital PR firm and 18 to 4 for digital PR companies. Our referral traffic also increased by over 400% over the two days.

And if you're still unsure about how to create more coverage for your next digital PR campaign, don't be afraid to reach out to us!