I've been working in SEO for over a decade, and SAAS SEO is by far my favourite niche to work in.
At Legacy, we use a proven framework for SAAS companies that we've developed over the years. In this article, we will run you through our SAAS SEO Blueprint, a proven framework for SEO success for SAAS companies.
This post is for you if you want to learn:
The SAAS SEO Blueprint – How to Succeed in 2023
The SAAS SEO blueprint is built on over a decade of SEO knowledge. It aims to combine every little trick I've learned into one post to help SAAS websites rank internationally.
This blueprint has been built by working with a variety of SAAS companies across very different niches, such as project management, design, legal, internal communication and employee engagement.
I didn't know much about any of the above industries until I started working with clients in these niches. However, with the methods I'm going to explain in this post, I've been able to create SAAS SEO strategies that have helped grow organic traffic, increase leads and ultimately increase revenue for SAAS companies across the globe.
SAAS SEO Foundation – Competitor Analysis
One of the first places I like to start when building an SEO campaign for a new SAAS client is competitor research.
While I don't think it's a good idea to blindly copy everything that a competitor does, reverse engineering what works for competitors can give you a head start and help you formulate a killer SAAS SEO strategy.
To analyse competitors, I will start by Googling my main keywords to determine which competitors rank. Once I've identified my competitors, there are a few things I'll look at.
Competitor links
I'll go into this in more detail later on in the post, but it's very important to get a baseline for your competitor's links versus yours. If you work for or own a relatively new SAAS company. You likely have very few links pointing to your domain (unless you bought an expired domain).
I like to use Ahrefs to get a baseline for competitor links. Let's use an example where I work for a fictional accounting software and I've identified that Xero is a competitor.
To analyse Xero's backlinks, I would copy their Domain and enter it into Ahrefs Site Explorer.

I'll do this across a number of competitors to get an average. This will help me formulate an overall strategy, because by using the baseline for competitor backlinks I can decide what keywords are realistic to go after.
Competitor keywords
At the beginning of a campaign, I also like to look at competitor keywords. Again by using Ahrefs I can see which competitors rank for the most keywords and therefore garner the most traffic. I like to find out which 5 competitors rank for the most keywords. I'll then use this information during the keyword research process to help build the overall strategy.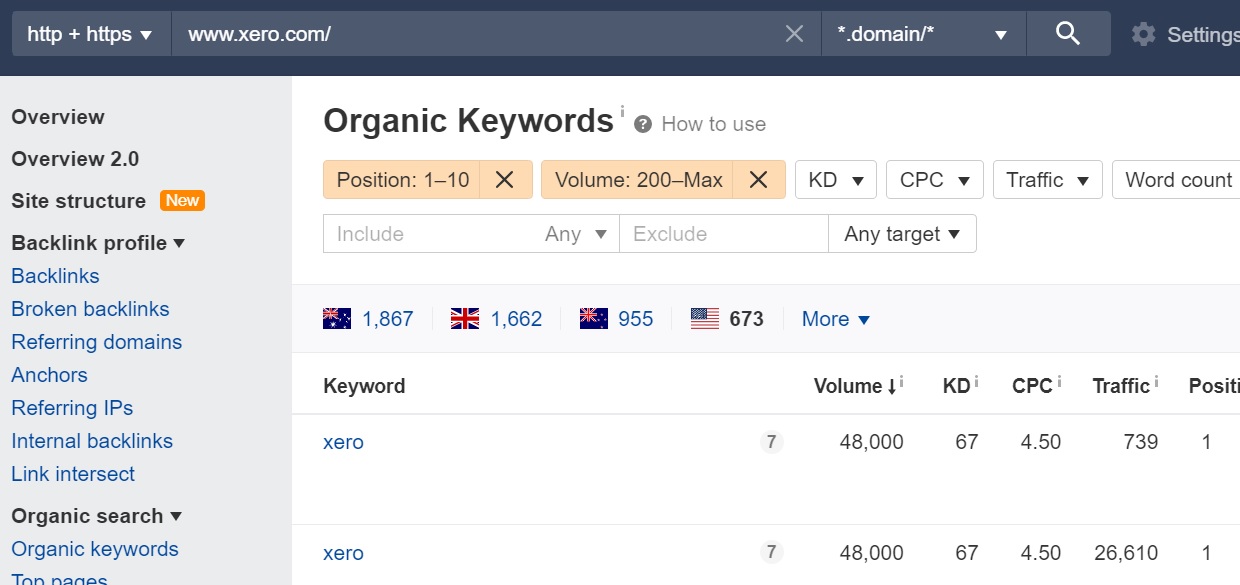 SAAS Keyword Research
I break my keyword research for SAAS companies into 2 phases:
Brainstorming
Competitor Gap Analysis
Brainstorming keyword research
Brainstorming keyword research is relatively straightforward. You think of the keywords that you would Google if you were looking for your product and then check to see if the words you come up with have search volume.
To be honest about it, I prefer to use competitor keyword research as the main strategy. This is because brainstorming for keyword research can be a lot of work. Your competitors have probably already done most of the hard work and you can reverse engineer that work with tools like Ahrefs to save yourself a ton of time.
Nevertheless here is a step by step video I've created that shows you how to brainstorm keywords:
Competitor keyword research
One of my favourite ways to do keyword research and build my SAAS SEO strategy is to build on the above by analysing competitor's SEO strategies to help me build my own.
Because of VC money, you'll often find that you are up against larger marketing teams with much more resources than you.
You can use this to your advantage because in a lot of cases your competitor's marketing team will have figured out what already works and essentially laid out the blueprint for you. You can then use this blueprint to do it bigger and better than your competitor has done and outrank them.
Carrying on from the above, I'll export the competitor's keywords from Ahrefs and filter out branded keywords.
I'll then freeze the top row and sort the URL's A to Z. I do this because it's the quickest way to identify keyword clusters to target. For instance, in the screenshot below, I've identified that Xero has an invoicing content hub and that they've created content on:
How to make an invoice
How to send an invoice
What is an invoice

I'll go through this data for all of the 5 competitors I found in the earlier steps to identify which keywords I can use to build my overall strategy.
I'll then create a separate sheet called a content map. In the content map, I'll create a row for each topic, with the main keyword and secondary keywords to use for the content. I'll also map what stage of the funnel the keyword is at, if it needs to be new or existing content, as well as the search intent of the keyword (IE is it informational or transactional).

Luckily for you, I previously created a few videos that walk you through the full process, step by step and in more detail.
Competitor keyword research overview
Competitor Keyword Research Part 1
Competitor Keyword Research Part 2
SAAS Content Marketing Strategy
When you've completed the keyword research process and created your content map, you can start to build your SAAS content marketing strategy.
You need to break this down into three core funnels:
Top of funnel
Middle of funnel
Bottom of funnel
Top of funnel SAAS SEO content
Your top-of-funnel content is usually your informational content with guides on how to do things in your industry.
In the example above, you saw that XERO have a number of pieces of informational content on invoicing, such as "how to create an invoice" and "what is an invoice".
For a successful SAAS SEO strategy, you need to create content for every part of the user journey.Xero does this well by creating informational content that will resonate with someone at the beginning of their book-keeping journey.
To- of-funnel content will typically be blogs/informational articles for most SAAS companies. However, we have found more success recently by creating specific content hubs for each subject.
Again if we take Xero as an example, rather than putting their content on invoicing into the blog, it lives in their content hub. This is a much better strategy as it helps create relevance across similar pages through internal linking.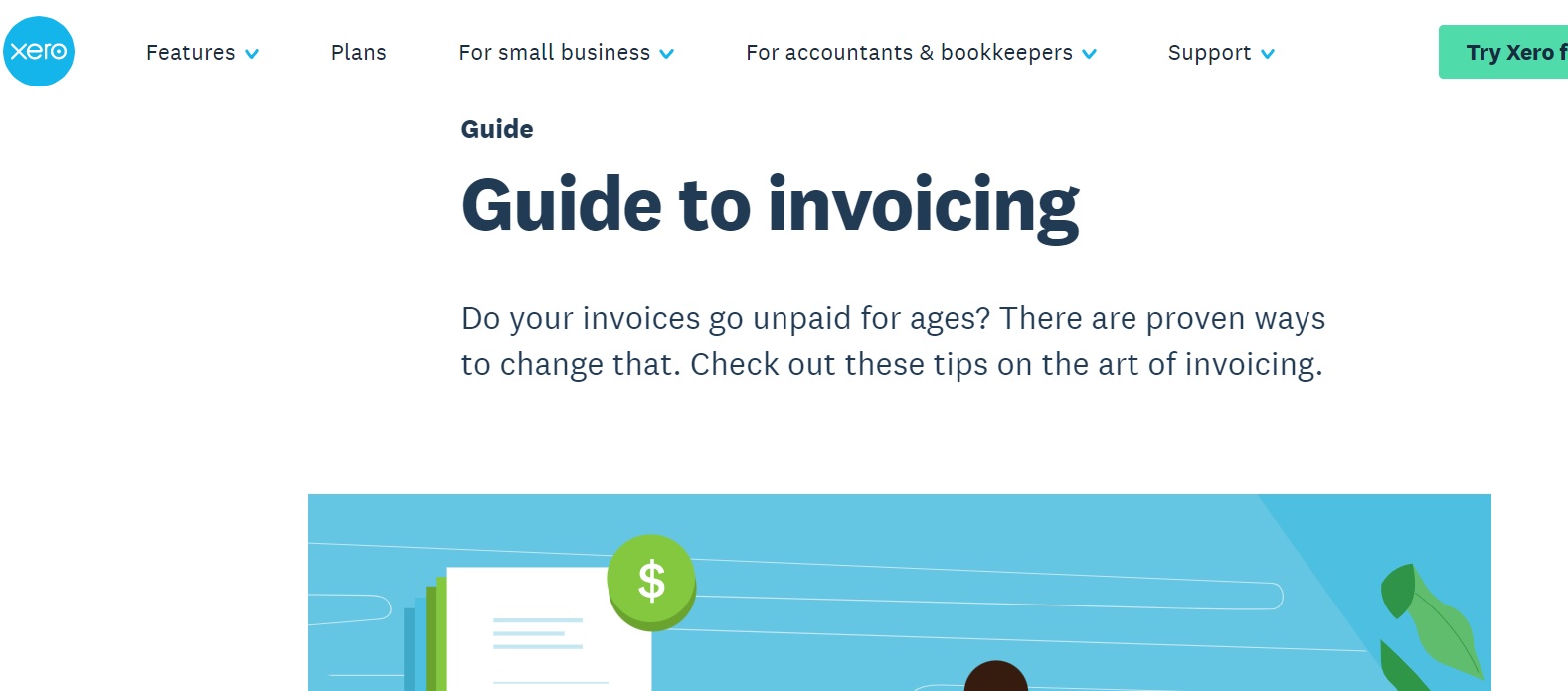 Middle of funnel SAAS SEO content
Middle-of-funnel content is a key piece of your SAAS content marketing strategy that bridges between the high-level concepts of your niche and the value your product provides.
Users in the middle of the funnel are a little bit further along in their journey and a bit more educated than the top of funnel users. Content for middle-of-funnel users needs to help the user and ideally will move them towards the final step of the journey to the bottom of the funnel.
This might come in the form of an ebook or a webinar download that goes in-depth on the subject. EG our fake accounting SAAS might do a webinar on tips and tricks for a more productive accounting department.
Bottom of funnel SAAS SEO content
Your bottom of funnel content will typically come in the form of your product/solution pages.
These pages are designed to give your potential customer all of the information that they need to convert into a user.
Again using Xero as an example, we see that they have created a specific page to rank for accounting software.
This page ranks on page one of Google across the English speaking world and is likely a huge driver of traffic, trials, and customers for Xero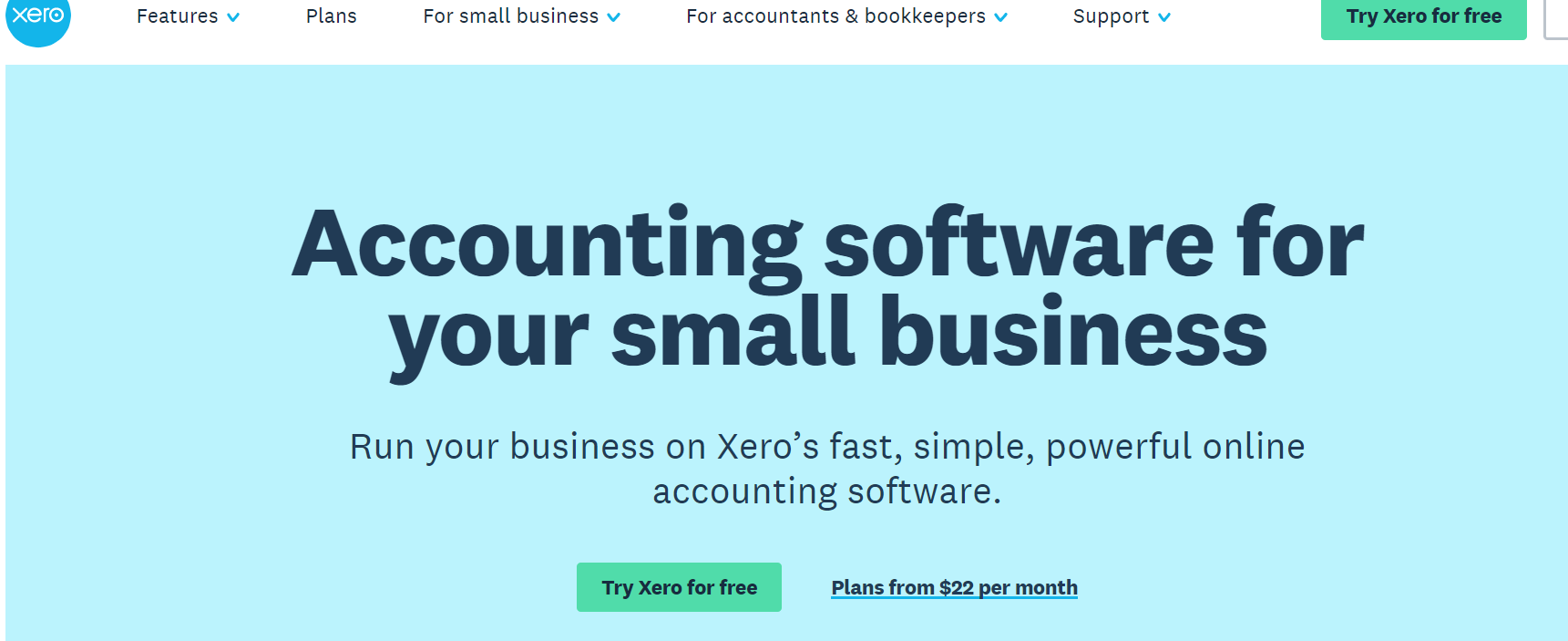 The SAAS SEO Challenge
Here lies one of the main challenges with SAAS SEO these days. A few years ago if you wanted to rank for bottom-of-funnel keywords, your number 1 strategy was to create solution/product pages like the above example to rank, or else rank your homepage directly in the SERP's for the keyword.
But in recent years, when searching for the bottom of funnel keywords, the first page of Google is dominated by listicle-style articles.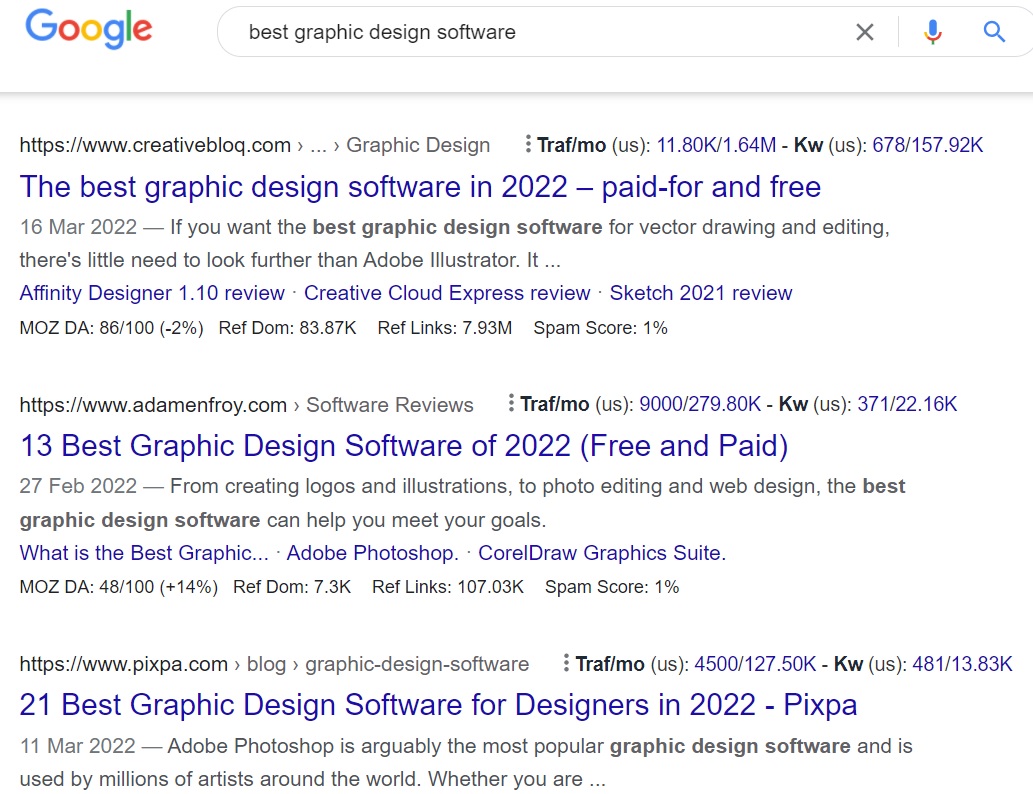 This leaves you with a conundrum. You'll want to rank your solutions/product landing page in the top 10, but in most cases, this won't be possible as the page doesn't match the search intent.
If you want to rank for the bottom of funnel keywords in most SAAS industries, you'll likely need to create a listicle of your own that mentions your competitors so that you can rank for the keyword and match the search intent.
This is where it gets interesting because you have to decide on your overall content strategy and if a lot of your content will be listicles that mention your competitors.
This can prove especially tricky to get buy-in from other stakeholders, especially senior leaders who might want to avoid mentioning  a competing product at all.
SAAS SEO Content Brief
When creating content for our clients, we use a content brief to help ensure that all content matches the search intent, includes the right keywords and is  straight out of the box.
You can copy our content brief >here<
Conversion Optimization for SAAS SEO Campaigns
Because a successful SAAS SEO campaign should focus on all parts of the funnel, you need to be clever when it comes to conversion optimization.
The ideal situation is that each piece of content you create comes with a logical next step. You can't just rely on Calls-to-action like "sign up for our newsletter".
The harsh truth is that no one cares about your newsletter.
You should use your top-of-funnel content to drive traffic to the site and then use CTA's with mouth-watering lead magnets that offer real value to encourage the visitor to take the next step.
For SAAS SEO campaigns, 3 CTA types that work well:
Embedded CTA's
Pop-up CTA's
Sidebar CTA's
Embedded CTA's fit right into the body of your content.
Ideally, the CTA will match the content, so if the accounting saas wrote a guide on how to send an invoice, the embedded CTA might be for a lead magnet with a free invoice template you can use.
Here is a good example of an in-content/embedded CTA from Digital Marketer: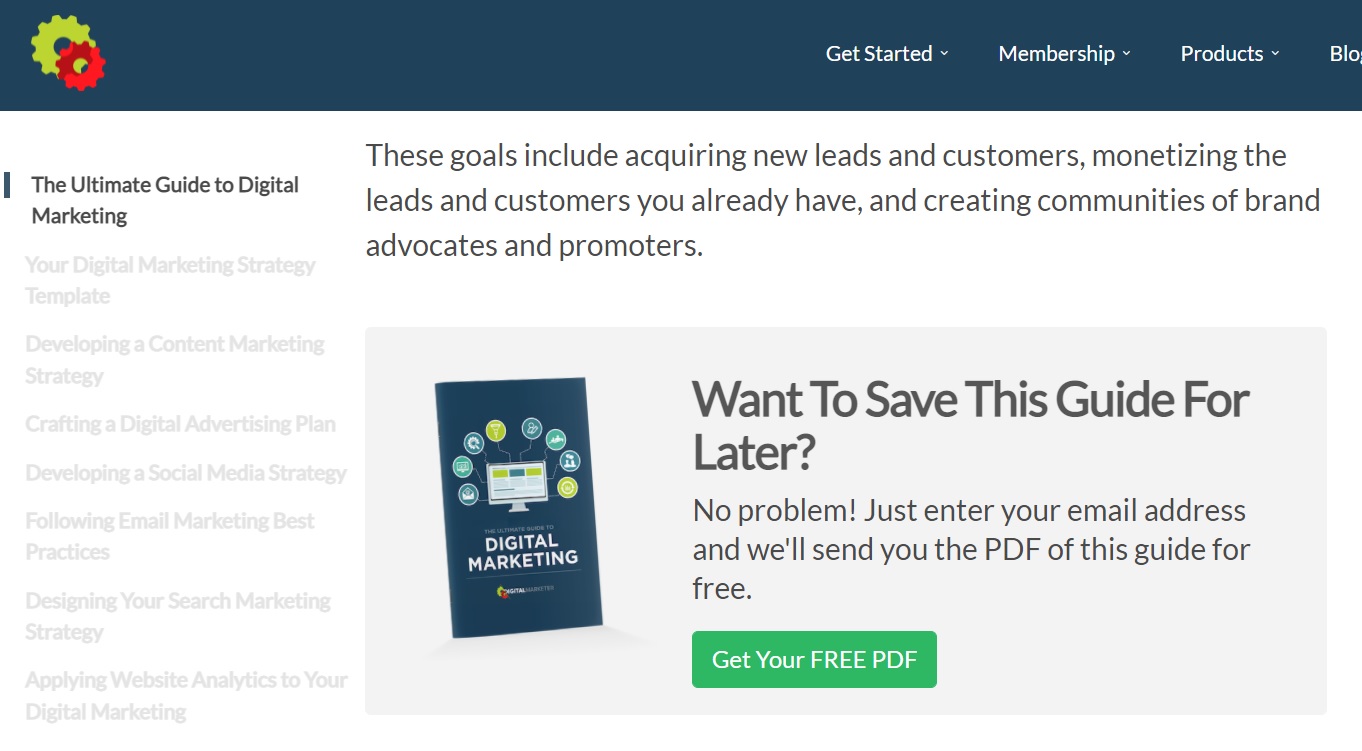 You can also use the in-content CTA to push people from a top of funnel informational page to a bottom-of-funnel decision-making page, here is a great example of this from project management software Teamwork: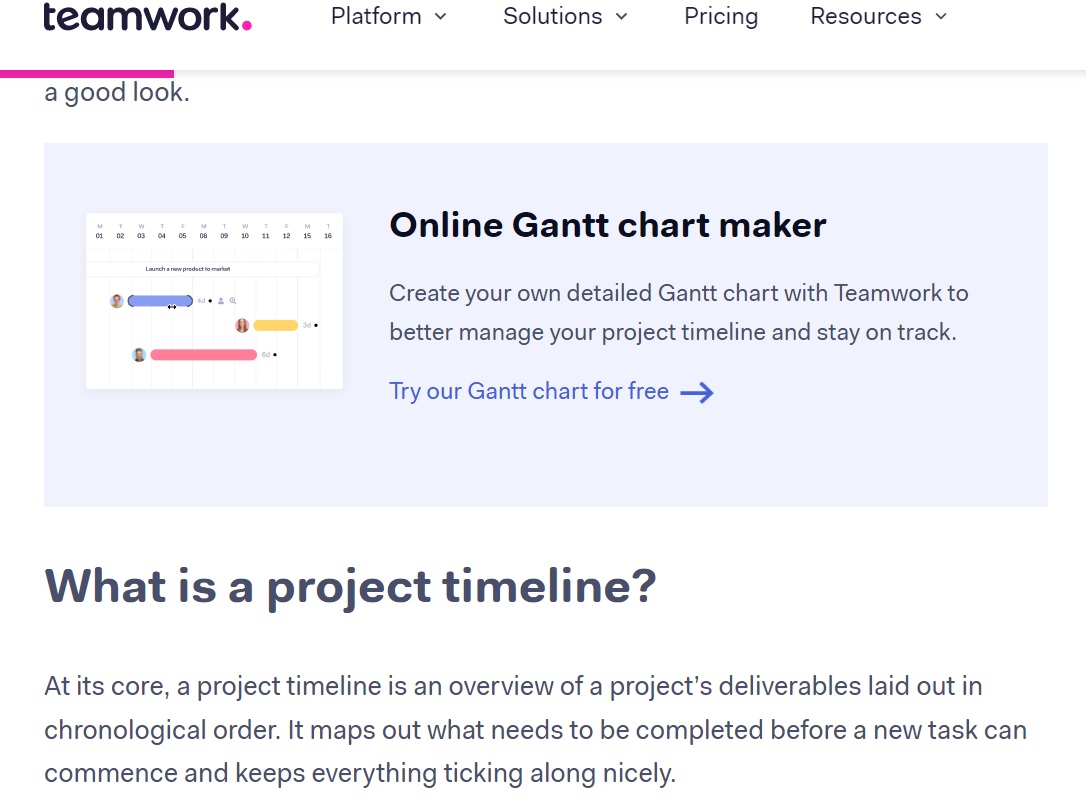 Pop-up CTA's are just that, they pop up onscreen and offer you the chance to download something. You can also set various rules, such as time on page or exit intent. Here's a great example from Optinmonster (who also happen to have a great lead magnet tool):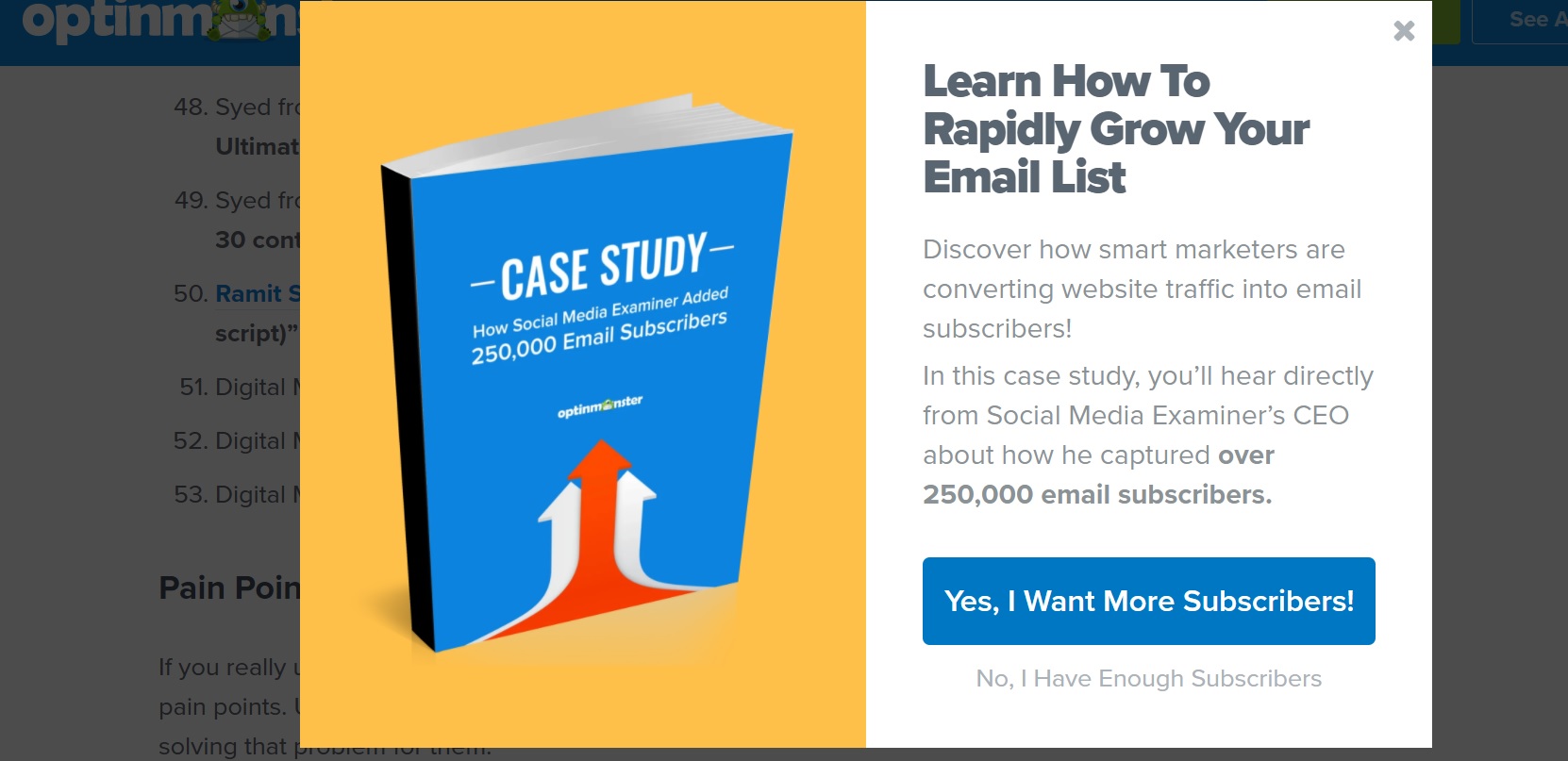 Sidebar CTA's go on the side of your content. In our experience sticky sidebar CTA's work best, as they stay in the website visitor's eyeline as they scroll through your content. Here's another good example from Optinmonster: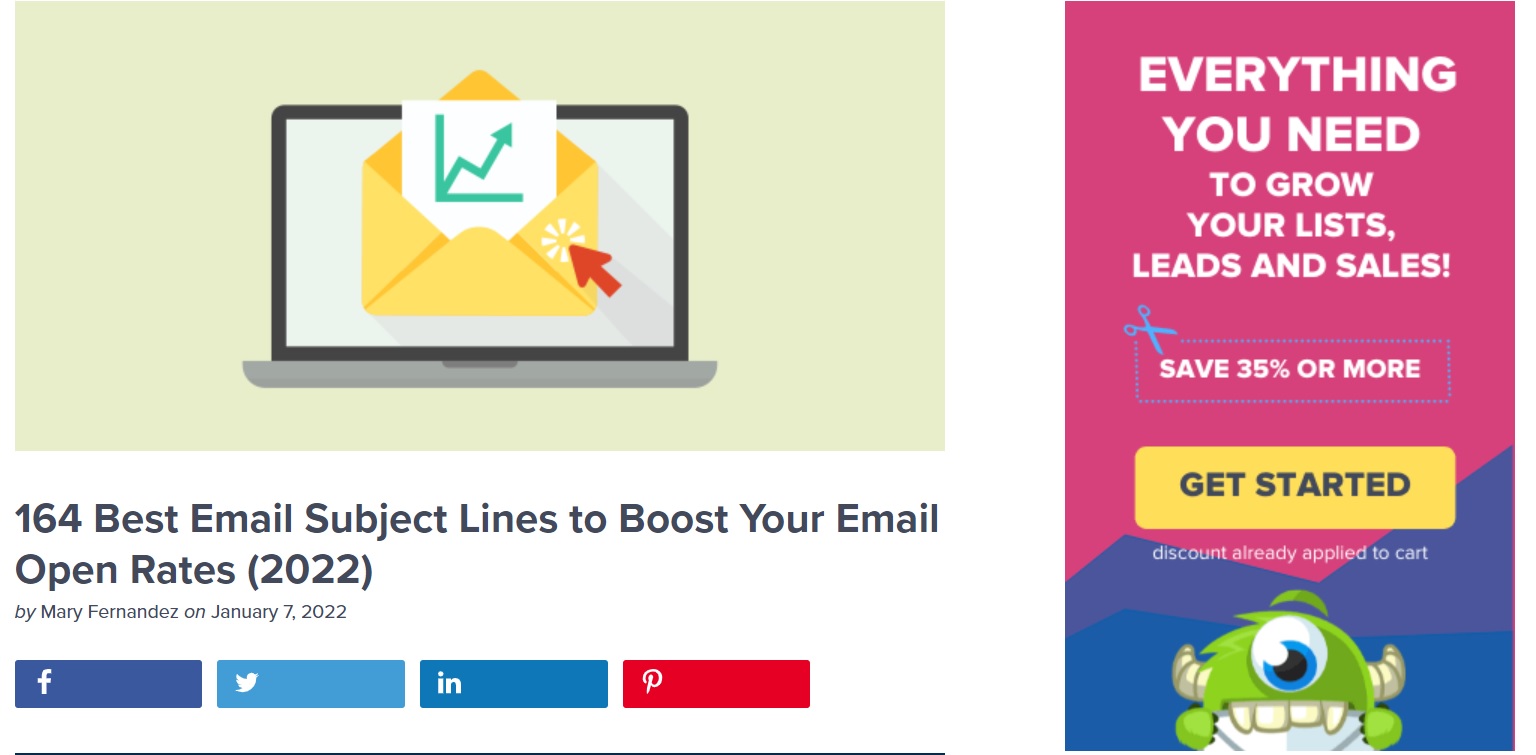 In this case, they're actually pushing the user towards the product rather than a lead magnet.
SAAS Technical SEO
Technical SEO might not be as important for SAAS companies as it is for  e-commerce companies. This is because SAAS websites will likely have few pages  than an e-commerce website, so you can get away with your site being less structurally sound in the SAAS niche.
However, with that said, I do believe it is important to create a technically sound website for your SAAS company. If your technical SEO is on point, it can give you an advantage over your competitors, especially if you create a bulletproof site structure that spreads authority across all pages and internal links between relevant pages.
I do find that some of the tools really help you zone in on technical issues a lot easier these days.  The Ahrefs site audit is a great place to start if you don't know much about Technical SEO, you can run a crawl and the tool will identify issues that you can then pass to your developer to fix.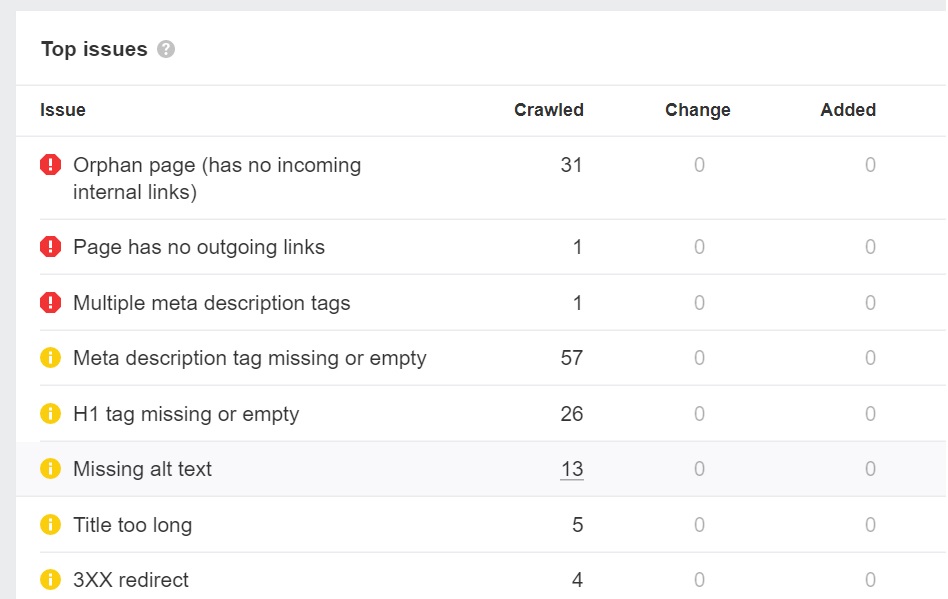 There are a ton of really in-depth guides on technical audits available such as this one, but if you are doing a technical SEO audit for a SAAS website, you'll want to concentrate on the following areas:
Indexation
Google Search Console
Google Page Speed Insights
Pingdom Tools & GT Metrix
Robots.txt
Sitemap
Site Architecture
Links
Onpage SEO
Content
Keywords
Analytics
Mobile Responsiveness
Structured data
Our own site audit procedure at Legacy is extremely in-depth and can take 20-30 hours to complete.
I've put together a standard operating procedure document that you can use to run a mini technical SEO audit on your SAAS website.
You can get the SOP >HERE<
SAAS Link Building
Links are a significant part of the SAAS SEO puzzle. If your website doesn't have high quality links, it won't have the authority to compete with your competitors and SEO won't be a viable marketing channel for your SAAS business.
Here are a number of strategies I like to use to build links for SAAS companies.
Finding listicles in your niche
This one is low-hanging fruit for sure. You're looking for websites that have written listicle posts about your niche. For example, if your saas was in the internal communications niche, you would look for articles like this.
You can just google keywords like "best [keyword] software [year]", so for example, if you are in the accounting saas niche, you would search "best accounting software 2022".
You can then make a list of all the listicle posts that mention multiple tools and then reach out to them and ask to be added to the post.
Reverse Engineering Competitors Links
Just like reverse engineering competitors' keywords, reverse engineering their links can be a great way to identify potential link opportunities. In a lot of cases, if a website has linked to a competitor, they'll likely be open to linking to you as well. Reverse engineering competitors can be an even quicker way to identify listicle posts like the examples above. You can also scroll through competitors' links to identify any other strategies the competitor might use.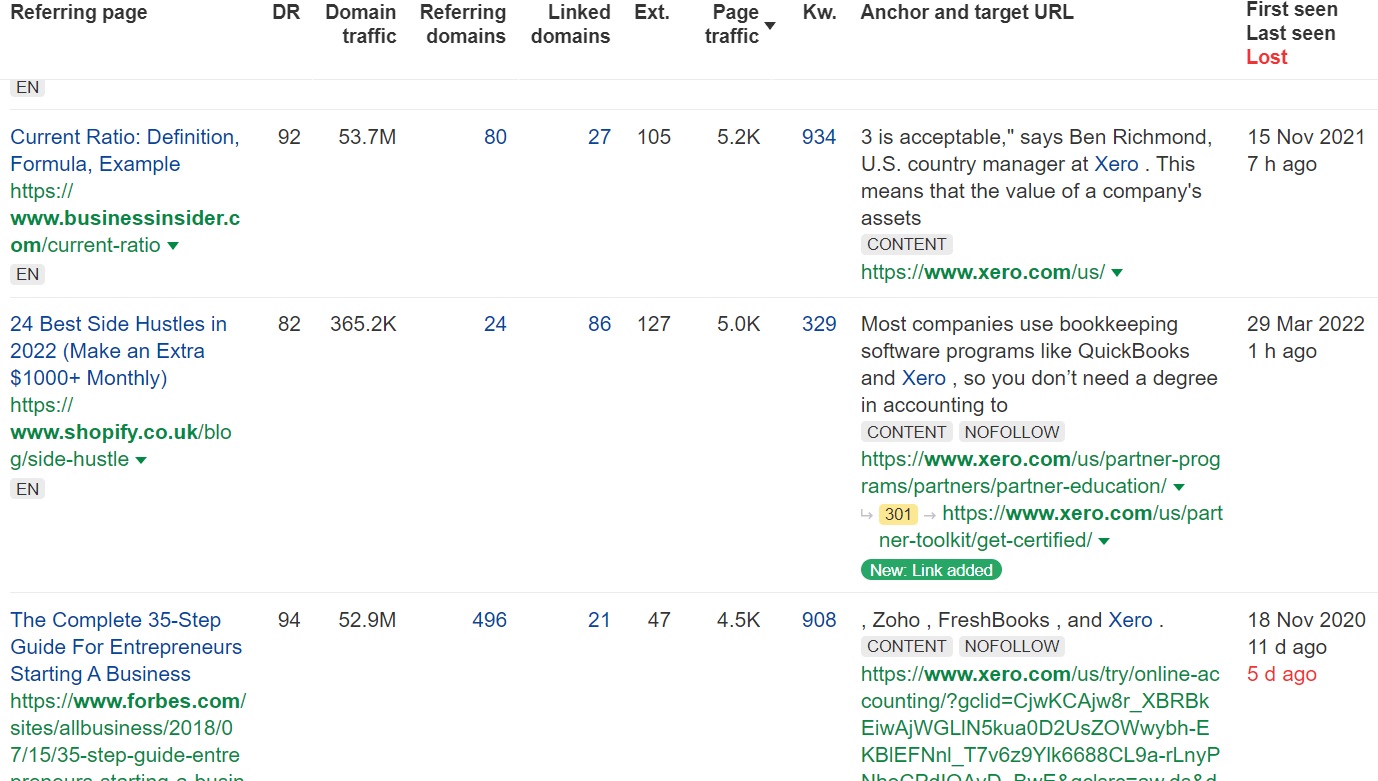 Digital PR
Digital PR is ideal for SAAS SEO. It's one of the best ways to build links at scale and at speed, which can be especially important for new SAAS companies, who need to accelerate their link-building efforts to compete with other SAAS companies that have been around a long time. In our guide to Digital PR, we take you through the step-by-step process we use to build links using Digital PR with main strategies including:
Reactive and proactive
Product PR
Creative Campaigns/stunts
Data led stories
Thought leadership
Guest posting
This one is slowly dying but is still a viable option. In my experience, the best way to do it these days is to partner with other SAAS companies in similar but non-competing niches to help accelerate each others growth.
Here's how to find 5 super easy link opportunities.
How To Choose A SAAS SEO Agency
Easy answer – Just choose us. We're a SAAS SEO agency with a TON of experience across many SAAS niches.
We've ranked many websites, across many industries across the world.
That's important.
Being able to rank websites in multiple markets is a completely different skillset and needs a much higher lever of SEO skills.
Local and national SEO can be relatively straightforward, but for SAAS SEO success, you need to be able to compete and know how to rank a website on a global level.
The SEO team at Legacy communications is well equipped with over 30 years of experience in ranking websites on a global scale and can help you grow your SAAS business, whether it's a bootstrapped startup,  VC funded, or publicly traded.