Hotel SEO: The Complete 2023 Guide
The travel industry is among the most digitally advanced industries in the World. According to McKinsey, Digital Adoption within the travel industry grew by 38% during the pandemic.
When you consider that 68% of online experiences begin with a search engine, it is vital to understand SEO. 
While we might not be primarily known for hospitality SEO as a team at Legacy, in my time as an SEO I have helped hotel clients rank for extremely valuable and highly competitive keywords across the entire industry and in multiple countries. 
I've been in SEO dog fights with behemoth online travel agents and still come out on top, achieving top of page rankings for highly coveted keywords such as "Hotels Hyde Park". At one point, I had four hotels ranking in the top ten spots for "penthouse suites London." 
So it's fair to say that when it comes to hotel SEO, I know what I'm talking about and in this guide I'm going to teach you everything I know about SEO in the hotel industry.
We will cover the most important tactics when it comes to hotel SEO, starting with:
What is hotel SEO? 
Search engine optimisation is a process to improve the visibility of a hotel website on search engine results pages such as Google or Bing. With more visibility, we can help grow your traffic and enhance your direct hotel bookings.
Our SEO approach covers the whole funnel regarding hotels in an area, things to do, maps, and how to get to the hotel. We use a broad description of hotel SEO because a search engine is at the centre of each experience above
Why is SEO for hotels important?
SEO produces the best return on investment for hotels when you rank in the top ten search results of Google. Ranking in the top ten can unlock a new revenue stream each time a customer searches for a hotel in your location. These customers are ready to reserve a hotel room once you meet the criteria to rank in the top ten of Google. To rank in the top ten of Google requires a hotel SEO strategy which includes content, conversion, and PR. We consider content, conversion, and PR our three pillars of SEO. 
Our hotel SEO tactics for content:
When creating content about your hotel, it is important to understand that you need to stay local. If your hotel is in Hyde Park, you can write about Hyde Park, Speakers' Corner, Kensington Gardens, Bayswater, Bayswater tube station, and the Diana Memorial Playground etc. You cannot go outside of that area because it is too far from your address.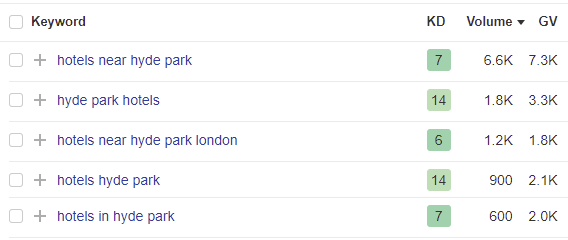 Unless you want to target things to do where you would discuss Hyde Park, Kensington, South Kensington, Notting Hill, and Mayfair.

The types of keyword you are targeting will depend on the type of content you can create and rank on Google. It is best to go local because each area will have individual hotels, chains of hotels, and online travel agents in the search results. To stand out, you need to use clever ways of communicating your unique selling point through offers, a story, or the history of the building. Keyword research of your local area will help define what is achievable in terms of creating traffic to drive revenue. Once the keyword research is complete, we would recommend writing your titles and description to stand out from the crowd. 
Create unique titles, descriptions, and use hotel schema
99 times out of 100, your home page is where you will rank for your most important keyword. 
As a result, if you were targeting "hotels Hyde Park" you would ensure to get Hyde Park into the title. In the description you could highlight an offer or the main USPs of your hotel. We would also recommend adding hotel schema to your website. Hotel schema will allow you to display your star rating from Tripadvisor, an offer, or to ensure you get the right image in the SERP.

Take advantage of FAQs
FAQs are a great way to add more value to your page. FAQs are also valuable because you can use FAQ schema to take up more real estate in the search results (SERP).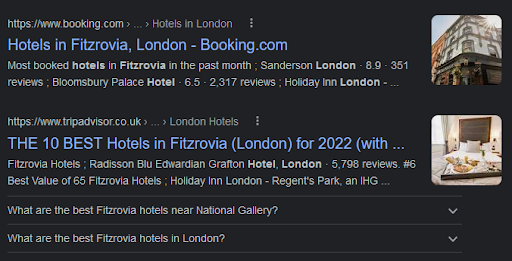 The online travel agents take advantage of FAQs in every SERP. You can utilise this tactic by adding extra content at the bottom of your page and use FAQ schema to help Google display it like Tripadvisor above. If you are looking for FAQ ideas, you can use Answer Socrates or Also Asked for ideas on what to add to your page. SEO tools such as Ahrefs provide questions when doing keyword research which can add ideas on what to say in your FAQ section.
Reviews: a simple content tactic
When creating your page and trying to boost how frequently you mention the keywords on your page. Add in a subsection highlighting reviews of your hotel. You can read through Tripadvisor to find four and five-star reviews. We would suggest choosing reviews that highlight your unique selling points. 
Target keywords with your hotel rooms in major cities
Most hotels will have a combination of room types, such as your family room, executive room, hotel room with a balcony and a penthouse for four or five star hotels. In large cities such as London, these room types have niche search volume. Using the keyword explorer by Ahrefs, we found over 350 keywords with 8,500 searches per month for hotel rooms.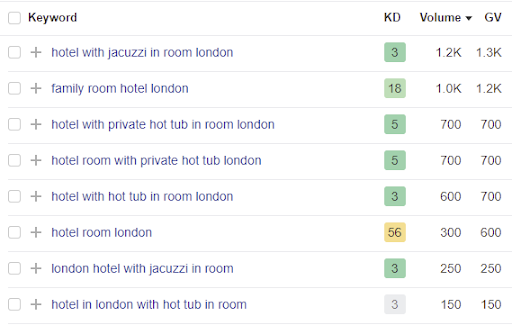 The beauty of optimising your family room page for "family room hotel London" is that you have an opportunity to rank for a city wide keyword no matter where you are in London. For example, the Apex City of London Hotel is ranking in sixth position after Booking and Visit London: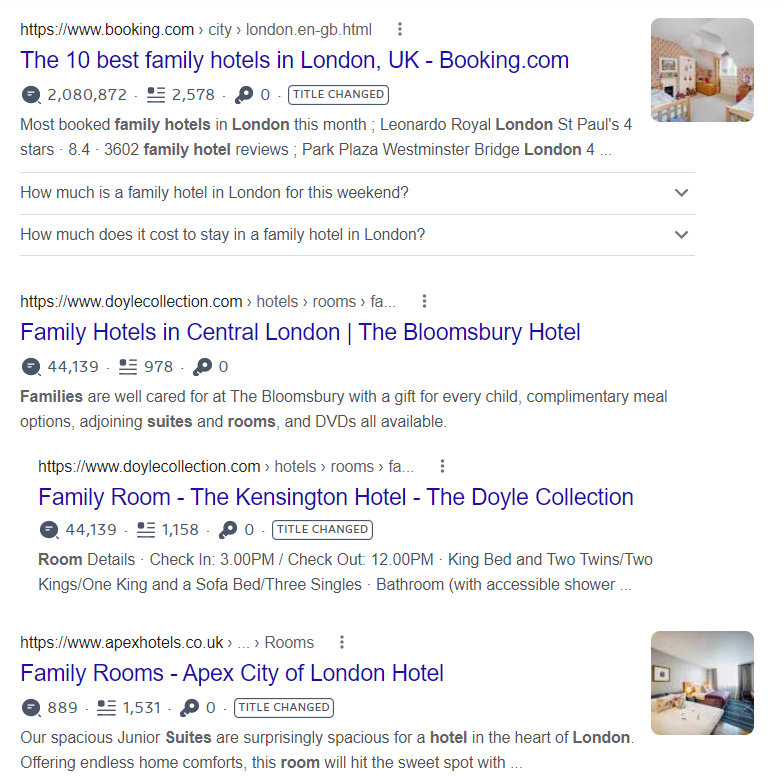 Use content hubs for awareness content
A content hub could target keywords such as things to do. A content hub can display this content in a user-friendly manner and bring the  best parts of SEO that are applicable to search engines and users. A content hub is a curated collection of branded content on a specific topic or subject. It houses articles, videos, infographics, and other forms of content that let users take a deep dive into a specific area in which the brand is an authority or expert.
We can elevate the brand through the content hub by overlaying different call-to-actions according to the marketing funnel. We would also highlight that a content hub allows us to express a brand in terms of colours, tone of voice and imagery.
Hotel SEO tactic for conversion
When considering the conversion side of hotel SEO, we would focus on technical SEO involving your website and the pricing of your rooms. Both converge to improve your conversion rate which should grow month-on-month when you work with an SEO team. 
Pricing your hotel rooms
Direct bookings are the most valuable for a hotel. Once you engage an SEO agency, it will be important to provide an incentive for someone to book directly instead of through the online travel agent. These incentives could include free breakfast, a breakfast and dinner package, a drink on arrival or a discount for staying longer. 
The SEO team will be able to use these packages in the descriptions and on-page content to entice people to book. By highlighting the hotel packages, your conversion rate will grow. In Google Analytics, the product performance report will detail which packages are performing the best.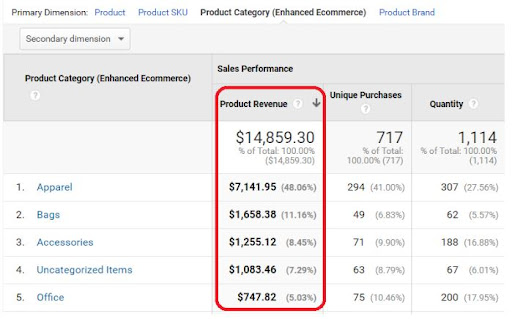 From experience, when popular packages are not available, revenue will fall. As a result, we would contact the hotel manager for new deals to kickstart revenue. 
What sells through Google Ads
When a hotel uses the same digital marketing performance agency for Google Ads and SEO, the team can share insights on campaign performance. One of the easiest ways to improve performance, is to take insights from Google Ads. When you compare the two marketing channels, Google Ads will show results quicker than SEO. To help improve the SEO, your SEO specialist can take ideas from the Ad text for titles and descriptions. They can also take insights from product performance through Google Ads to find out which hotel offers to promote in the meta-description. These simple tactics between a digital marketing team can help improve the quality of your website visitors and improve conversion rates. 
Make sure your pages load quickly
Page speed is vital for the user experience of your website. No one is going to wait for a page to load because we are hungry for instant gratification. For example, when we compare the page speed of the top ten websites ranking for "family room hotel London". 
We can see that the Apex City of London hotel is slightly behind the average of 51, with a score of 30.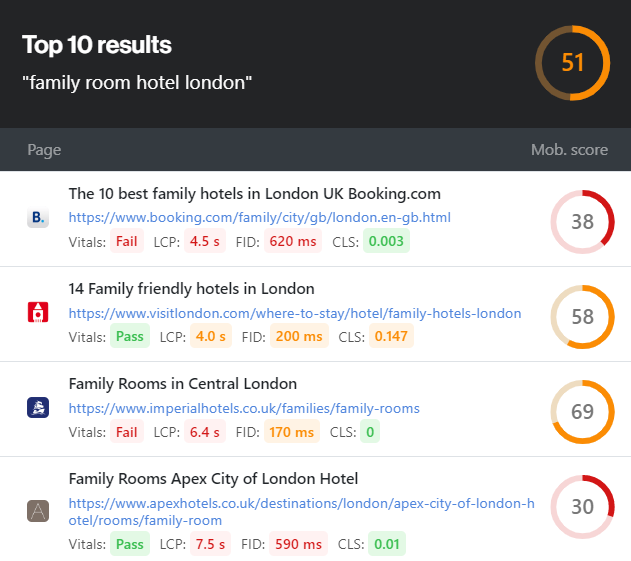 If Apex Hotels were our client, we would suggest working on page speed because we have clients where a good page experience drives over 50% of traffic on a monthly basis. Google rewards page experience because it improves the user experience of its customers who are everyone that makes a search on Google. We used the SERP speed tool by Reddico for this analysis. 
Link building and PR
As Legacy Communications is a PR agency, we consider PR to be the traditional format of pieces in a newspaper or magazine, online in a publication, or modern Digital PR. The goal of PR for a hotel SEO strategy is links. We use a variety of techniques to gain links such as from event venues and local attractions when working with hotels. 
Build links from event venues
Gathering links from event venues within close proximity to your hotel is among the simplest link building tactics. We can reach out to event venues who have an accommodation list to see if your hotel can be among the hotels mentioned. Sometimes venues want a business agreement which we would forward to the hotel manager. When the event venues agree to listing the hotel, we would include an offer that we know will be on the website forever. 
Go local with your Hotel SEO tactics
Hotels are essentially local searches no matter where the person making the search is living. The map pack by Google is always in the top three of the search results. The map pack is valuable real estate because of the ability for a hotel to display a price and book directly on your website. 
To improve your visibility in the Google Maps results, we would recommend completing the following:
Add a keyword optimised description of your hotel

Add all of your hotel attributes

Add a lot of photos of the lobby, rooms, and restaurant

Add a 360 degree photo of hotel rooms and the lobby if you have the budget

Ensure to add your health and safety attributes

Maintain a 4.5 review score
Free booking links on GMB
Last year, Google introduced a way for hotels to show free booking links. This month, Google announced an expansion of free booking links. These free links are now available on Search and Maps.
Google is rolling out the expansion of free booking links because of the positive user experience. One of the booking engines, "myhotelshop" has seen a 30% incremental increase in bookings during the summer of 2021 due to free booking links. 
Citation management for your name, address, and phone number
To correctly manage your local SEO, we prioritise organising citations for the business to extend our local listing beyond Google Maps. The citation management can also help people navigate to the hotel because of the agreements between Google, Nokia, TomTom, and the car companies. For example, some Google Map features are in Toyota, Audi, Mercedes, GM, Fiat, Volvo, and Nissan cars. 
For the official mapping technology, most car manufacturers depend upon Nokia or TomTom, so we would use citations to expand our reach into other technology providers. Creating the correct citations for your hotel also helps corroborate your Name, Address, and Phone which helps to build trust with Google. 
Creative content tactics for your hotel
All marketing strategies require a little creativity to engage users and create a brand. For some hotels this could be a big PR campaign to establish the name. For others it could be simple content tactics such as content for social media and the use of Web Stories. 
Create content for social media accounts
This idea is unrelated to SEO directly but will help build a brand. If you are familiar with Instagram, you may know about the accounts which promote Instagram reels of holiday destinations and hotels. For example, Glorious Hotels promotes Instagram Reels from influencers. 
Our suggestion is for the hotel to hire a videographer to create video content for Instagram reels and Tiktok content. If you are shooting a video of a room, make sure to have a person in the video to add the human touch of the walkthrough. Once the content is ready, publish it on your account tagging these larger Instagram accounts for a mention. We would also make it easy for the social media manager to use the content by putting it on a page on your website where it can be easily downloaded and reshared. 
Web stories for rich content
Web Stories is a rich, engaging content format that can appear on Google Discover and Search Results.  Web Stories are similar to Instagram Stories. You can add links, images, and videos. We can use Google Analytics on your website to track performance. Web Stories provides an extra channel to share Instagram Stories type content with tracking and control. We feel it is a type of content that could do very well for inspiration type posts leading up to calendar events or local attractions.
Need help with your hotel's SEO strategy? Get in touch with our team.
---
Author: Arron Finn, Senior SEO Manager at Legacy Communications.
Arron Finn has over 7 years experience working in SEO, including helping hotels develop and improve their SEO strategies.